Happiness Truck 2.0 – On the East India trail
Stories are worth told when storytellers unravel words of wisdom. In this second edition, the story continues as our journey of Happiness Truck 2.0 (HT 2.0) took us further through India in collaboration with the teams of JK Tyre, Lumax and BharatBenz. In fact, had it not been for the wonderful and generous contributions of these three companies, such a campaign could never have been possible. Tightening our seat belts from Kolkata, the 'City of Joy', HT 2.0 navigated towards Bardhaman. What greeted us was the immaculate sight of both rural and urban West Bengal.
On the way we mused on how in India, truck drivers, in spite of being a vital cog in the country's economic and social development, are treated with utmost disrespect. They are looked down upon by most of the people in society. This has become the reason for an increase in the number of drivers leaving this industry even if offered a good financial package. At present, India has a shortage of about 1,60,000 drivers annually. Less drivers lead to more idle trucks. On an average, one idle truck costs around Rs. 1,000-1,500 daily, computing to an annual loss of around USD 871 million.
Occupied with such thoughts, our agenda was to cross 17 destinations and it had to be done with smiles all the way. It was also a chance to get into animated conversations with our fellow travellers and also discover the culinary variety of the country. One such exclusive item whose taste continues to linger is that of 'lengchas' – fried paneer-based Bengali sweet – which we tasted before touching Bardhaman. With JK Tyre helping us to maintain a firm grip on the roads, Lumax' lights keeping the vision clear, and BharatBenz conveying comfort, we finally reached the first of our many destinations, Bardhaman.
The Bengal Flavour
HT 2.0 received a warm welcome at JK Tyre's official dealer, C S Tyres, where we unrolled our various engagement activities with the truck drivers' fraternity. Our next destination was Durgapur, the third-largest urban agglomeration after Kolkata and Asansol in West Bengal and the third planned city after the independence of India. It was designed by two American architects, Joseph Allen Stein and Benjamin Polk, in 1955. Durgapur is the only city in East India to have an operational dry dock. The road to Durgapur provided several opportunities to our camera crew to capture interesting landscapes. With canopies ready on the premises of Kanksha Association, we engaged our audience with a showcasing of the values offered by brands like JK Tyre, Lumax and BharatBenz along with promoting the importance of safety on the highways.
The key persons who helped us with the activities at Durgapur included Sanjit Roy and Animesh Roy, the general secretary and president respectively of the Kanksha Association. Being a major association in this region, the campaign drew an amazing response from the audience. We engaged the truck drivers with some captivating fun games and other activities that spread smiles and cheers all around. We realised that a majority of the drivers had been using tyres of JK Tyre and were therefore well aware of the benefits derived from this brand. As such, the feedback was very positive.
Speaking about the Kanksha Assocation, Animesh Roy said: "We set up this association in the year 2000 and have more than 160 registered members. The vision was to be the backbone of the trucking fraternity. We have 600+ vehicles on the roads. Our trucks mostly carry cement."
"Our association also reaches out to the drivers with several activities, including medical camps," he added. Almost everyone present for the activities had good words to say about JK Tyre, BharatBenz and Lumax. "BharatBenz trucks are wonderful and have that extra comfort while driving long routes. Most of our members have BharatBenz trucks and we have heard no complaints from them. Lumax has been a first choice after realising the folly of using local products that failed to deliver. There has been quite a change in attitude in recent times with truck owners and drivers insisting on using the best products so as to not only enhance safety but also save on costs in the long run," Roy added.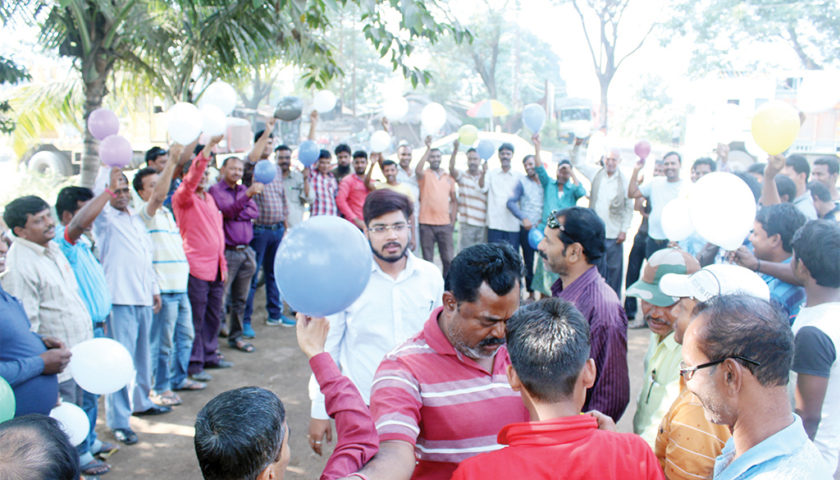 A Stony Affair
Next day, we set off for Rampurhat, a stretch of around 120 km from Durgapur. On the way, we halted for a while on NH114 where we saw some children playing football. With us being on the Happiness Truck, we simply could not resist the idea of spreading goodwill all around and we did so by distributing gifts to the children. The expressions of delight on their faces will stay back in our memory forever. At Rampurhat, we were surprised to see a huge number of tippers used for transporting stones. We got to know that there is spiralling demand for tippers and tyres because of the robust stone crushing business in this region.
We saw in use here JK Tyre's leading ultra-large off-the-road tyres (OTRs). The company, in fact, has been a pioneer in manufacturing these huge tyres – 40.00-57, 12 feet in diameter, weighing approximately 3,700 kg for high-end rear-dump trucks of 240 tons' capacity. We also happened to see many BharatBenz tippers which are built on their world-class Mercedes-Benz platform, giving a high peak torque even at a low RPM – ensuring performance for all kinds of terrains, and especially suited for the stone-crushing business. Before gearing up for the exciting engagement activity, we met Bikas Enterprises' owner Biswanath Padia, a JK Tyre dealer who manages a business of more than Rs. 200 crores.
"Bikas Enterprises has been into the tyre business from the last five decades. Since that time I have been a dealer of JK Tyre. Its products have always been in demand and generated good profits for us. Also, the company takes care of all its dealers with several rewarding deals and schemes. It has been an honour working with such an esteemed company. Our region sees the movement of more than 6,000 vehicles daily. As such, for us, tyres are equivalent to black gold. We would never want to move away from our association with JK Tyre given the fact that it has been such an honest and transparent bond over the years," Padia said. His sentiments about the tyre quality of JK Tyre were also echoed by the drivers present for the event.
On the East India Trail
After a night's rest, the whole crew seemed fully prepared with their sound equipment and cameras to capture the picturesque plains of Siliguri. Soon after a delicious local breakfast we were set for one of the biggest engagement activities till now at the Fulbari parking lot, which is just 2 km from the border of Bangladesh. The media got wind of our campaign and we were greeted with the presence of the ANI electronic media team and reporters from the local dailies. A huge congregation of truck drivers awaited us here, giving the environment the feel of a carnival. They all seemed overwhelmed and amused at the same time as they witnessed this first-of-its-kind initiative for truck drivers. Interestingly, during the engagement activities we met a local guide and the owner of a truck tyre repairing shop who helped us visit the Bangladesh border.
There we witnessed trucks from Bangladesh and Bhutan which transport huge boulders to Bangladesh via India. The Fulbari parking lot is now being revamped and will soon inaugurate a new parking premise which will have the capacity to park 2,000 trucks at a single point of time. Having said that, we should complement the road conditions in these wavy terrains where our tyres literally kissed the roads with joy. Our next stop was going to be Barpeta, approximately 400 km away on NH 27 and NH 17 from Siliguri. We reached Barpeta at midnight and it was pitch dark all around us. We had to wait till morning to truly appreciate the unspoilt and unexplored landscape of this region.
The Final Lap
After our Assamese breakfast, which was a wonderful gastronomic experience, we reached the MAA Tyre Shoppe, an exclusive JK Tyre dealer on the Barpeta highway. Our team soon began to freeze the 'smiles' of the truck drivers on their cameras and we were then ready to launch our event, which turned out to be hugely successful. The exciting day came to a close with an amazing dinner at a contemporary 'dhaba' with charpoys instead of chairs and tables. It served authentic North Indian food. And then it was onward to Guwahati. Collecting the smiles of the truck drivers throughout our journey, we gripped ourselves to head towards the Assam weigh-bridge. There we set up our canopy while giving a patient hearing to the complaints and laments of the local truck drivers about the hardships they face on the highways. Our job was to give them hope and cheer them up, which is what we did. The session also comprised providing the drivers a first-hand experience of how to keep the tyres 'healthy'. Meanwhile, Subodh Jha from Lumax showcased the company's products and answered various queries raised by the drivers. Our next leg of the journey was towards North East India but more of it in the next edition of this series.
Text – Manas Nandi
Campaign Planning – Avijit Lahiri
Photography – Rajeev Bhendwal