Getting the show on the road!
Words Rajesh Rajgor and Dhiyanesh Ravichandran
Campaign Planning Avijit Lahiri
Photography Rajeev Bhendwal
This series is like no other we have published so far. It isn't a regular editorial or a mundane advertorial appraising brands and products, nor just another travel diary of some exotic drive for fun. As in the MOTORINDIA tradition, the relish of solution and action-based journalism, not mere business reporting, is what that has made us different all these years, and it is that flavour of grass-root reporting and activities that sets apart this series as well!
Our strong commitment towards the development of the trucking industry by empowering all those millions of drivers that constitute the most of a convoluted ecosystem supporting it, the spirit to support awareness campaigns and ground-level activities is an essential part of our thought process. It then helped us spark an idea, and with the right partners in hand, all we had to do was to get the show on the road by putting up vibrant 'shows' on the 'road' that would have far-reaching impacts towards positive change.
In the first of this four-part series, Rajesh Rajgor and Dhiyanesh Ravichandran get down to brass tacks about the 'Happiness Truck' campaign that honoured the pivotal role played by drivers and the trucking fraternity in making our lives happier and sustaining its momentum, besides unearthing their own fascinating and at times misfortunate lives, the arduousity involved in their profession, and enthralling road transport heritage of the great Himalayan region.
Sparking the idea
Doing Himachal or Kashmiri runs as part of long-haul trucking, trying to cover as many miles as possible in one of the most treacherous routes in the world before dusk; and sleep at nights confining oneself to the cabin of a typical 'desi' truck, and cooking meals for those possible number of occasions in a day (not necessarily three, at times) and that too only when time permits, while diligently bearing all safety and security scares among zero mobile network connectivity, did make us wonder why they are doing this job! But if these people aren't there, no essential supplies or other consumer products would reach our Himalayan homes, nor folks there would be able to make a living.
We decided to peep into the world of these men and women, who are behind the wheels on arduous routes and pitiable conditions, serving the entire humanity selflessly by bringing happiness to their faces. We packed our backpacks to stay put in their scenarios for over 15 days, to understand their lives, pains and pleasures, and their expectations from all of us. While doing so, we ensured that they submerge themselves in the activities and awareness drives we conduct, in order to empower them with essential tips on trucking safety and maintenance, while also experiencing their much-deserved dose of happiness.
The idea stemmed from a harsh fact, that we often see passenger cars and two-wheelers being taken to exotic locations for reviews and photo shoots, but hardly trucks. We thought why not take a truck to such locations, traversing challenging routes and getting a first-hand experience of the life of truck drivers, fleet operators and mechanics en route. Thus was born the 'Happiness Truck' campaign that traversed from Delhi to Chandigarh, Manali, Leh, Srinagar, Jammu, Ludhiana and back to Delhi, visiting a dozen transport hubs and interacting with the truck drivers – the highway warriors!
Gearing Up
To realize its ambition, a brightly decked-up, purposeful 'Happiness Truck' was flagged-off from Sanjay Gandhi Transport Nagar (SGTN) in Delhi on June 29th. Hailing from Manali, Himachal Pradesh, 35 year-old Vicky was our go to man, who would drive the determined 'Happiness Truck' across the etched routes. Although he has been a proficient driver, on the Delhi to Srinagar path, for close to a decade, hauling fruits, spices, industrial goods and miscellaneous sundry items, he understood this was going to be a special drive.
His assistant – often referred to as 'helper' in trucking parlance, was Bitoo bhaiya (brother). He is as important as the hub & spoke to a wheel, guiding Vicky during steep curves, where the blind spots are apparent; it was also upon Bitoo bhaiya to open a water bottle, lit a bidi (tobacco wrapped in leaves) and engage in talks over songs and life in general, across the steady and largely monotonous drive. Irrespective of the happening on the route, both Vicky and Bitoo bhaiya would look forward to their self-made desi meal (dinner) cooked in the cabin, which would not only secure a good sleep but also prepare them for the next morning.
Sharing similar sentiments was Mr. Sanjeev Sharma, GM – Fleet Management, JK Tyre, who worked round the clock to not only ensure that this campaign gets executed seamlessly but also achieves its purpose. At the flag off, he said: "Trucks and truckers are really close to our heart, ever since we started the fleet management division at JK Tyre. It has helped us understand the life of a truck driver and fleet operators. A moving truck is happiness on wheels. It travels from one side of the country to the other, carrying goods but delivering smiles. With the 'Happiness Truck' campaign we want to touch the lives of those important stakeholders who contribute towards the growth of our country."
Adding perspective on its association with Motorindia's unique initiative, Mr. Amit Makhija, Head – Marketing & NBD, Lumax India, shared: "Lighting has been an important aspect for the drivers and the owners of the truck with regards to safety. Lumax has been paving the way for the same through latest technologies in lighting, from sheet-metal lighting to PC lighting and now even to the LED lighting. We are concerned and hence want to make sure that the latest technology is not merely available in cars but also for commercial vehicles. This will ensure that the driver and truck operator safety is not compromised."
Mr. R. Natarajan, Editor & Publisher, MOTORINDIA, said: "We are delighted with the kind of euphoria our 'Happiness Truck' initiative has generated since it was first announced. As a magazine dedicated to the commercial vehicle industry, we are proud to have come up with an initiative that will impact the lives of thousands of drivers, fleet owners and other key stakeholders in the trucking community. We thank our long-term partner JK Tyre for proactively supporting us in the campaign and also extend our gratitude to Lumax for brightening up the initiative as the Lighting Partner."
Spate of Conversations
Post the formal observance, we climbed onto the 1616 truck that was going to be our home during the journey. Used to seeing a single glass panel in cars and most of the modern trucks, this one had two glass fronts with wooden cum-aluminum moveable windows on the side. As the truck geared up for the mission, and achieved its speed on the highway, the steady flow of breeze gave us some respite from the heat and dusty weather of SGTN.
The next fifteen days were all action-packed. Along with three escort cars, the 'Happiness Truck' convoy traversed across important highway towns and trucking hubs including Baddi, Nalagarh, Darlaghat, Barmana, Bilaspur, and Mandi before Manali. The truck was made to handle the tough terrain and chilling traffic of adventure tourists in cars and bikes, trucks, and convoy of defence vehicles in the Manali-Leh stretch; not to forget the vulnerabilities of getting stranded in landslides, avalanches, and river crossing. The soothing weather and unparalleled landscapes of Jammu and Kashmir helped us cover the towns of Leh, Kargil, Srinagar, and Jammu with ease. The final segment saw us camping at Pathankot, Jalandar, and Ludhiana for activities, before returning back to Delhi with a sense of appreciation and satisfaction.
The engagement activities involved giving an introduction to drivers about the campaign, speaking to them about the proper maintenance of their truck tyres, tips to improve safety and save money, use of correct lighting during night driving, route hindrances and pain points. Throughout the journey, we were accompanied by experts from JK Tyre and Lumax who guided the drivers on accurate tyre pressure monitoring, tyre and rim servicing, variants of new LED lighting and their effectiveness on road. Each activity was followed up by fun-filled games which were thoroughly enjoyed by one and all and also brought forward the equation and bonding these highway pilots share with each other. Though only for a brief period, we were happy that the drivers got into in a happy-go-lucky mindset and enjoyed the sessions with complete freedom and enthusiasm. We were happy that they experienced happiness which was evident from their smiling faces which are usually little less roseate. The 'Happiness Truck' was serving its purpose!

The Happiness Truck – Face Matters!
There is no surprise in having a truck as the 'face' of our campaign, its very name suggests it out-rightly. Yet, which truck or model should we choose to represent a campaign that symbolizes trucking in India as a whole? A brand-new truck or a time-tested workhorse? A truck with factory-built cabin or one with the 'desi' touch? A medium-duty truck or a multi-axle heavy hauler?
We decided to go for a fairly-new single-axle 16-tonner with 160 hp engine (1616) and custom-built cabin, so as to represent the masses among the trucking population in the country. Even today, amid a variety of multi-axle rigid trucks available in the market, the 16-ton 4×2 still dominates the industry and is largely preferred by small fleets and driver-cum-entrepreneurs, primarily for their flexibility and practicality to multiple applications and load types, budget price, and traditional legacy still holding sway.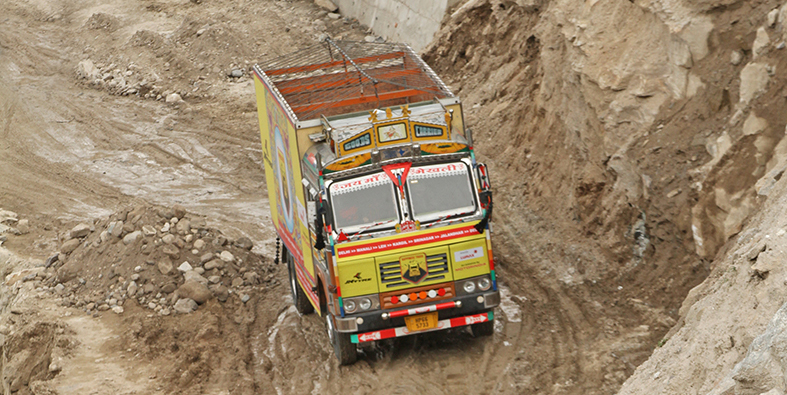 Moreover, trucks with factory-fitted cabins are minuscule in numbers, especially in Northern India. Yet another reason for opting for 4×2 was its popularity among truckers in Himachal, J&K, and Punjab markets, especially those plying on the Himalayan routes. Thanks to their short wheelbase and shorter rear overhang, perfect for twisty ghat roads and remote sections.
The audition for selecting the right 'Happiness Truck' went on for a while. We then zeroed down to a HP-registered, 2017 model-year 1616 truck, with typical Punjab designed custom cab embellished with body accessories and decorations as per the local taste. The truck also passed our 'minimum guarantee checklist', which included BS-IV turbo-charged engine, 6-speed gearbox, ABS braking, valid fitness and pollution certificates among other documents, GPS tracker, and so on.
A day before the commencement of our journey, the truck reached Delhi for a thorough service and visual makeover. Some electric issues were sorted out, along with a complete engine oil and lubricant overhaul. The truck was equipped with JK Tyre JETWAY JUH5 10.00R20 for the front wheels and JETSTEEL JDH3 10.00R20 tyres on the rear. Lumax LED DRL beams, equipped with LED bulbs of H4 socket type and luminance intensity of 6,000 k (Kelvin), did the job of lighting up our entire path. A brighter and colourful scheme was envisaged for the truck's visual makeover. The designing of side banners and stickers up front and rear drew inspiration from truck paintings of the Northern region, resonating with the positive character of the drive. On the freight side, even though not loaded with its usual payload, the truck was laden with grocery items like sugar, tea, rice and oil that were distributed to the drivers, road construction workers, and villagers of remote towns we came across en route the journey.
WORD OF MOUTH: The 'Happiness Truck' gained stardom status in the mainstream media in J&K