Witnessing magnanimity of hills & highway warriors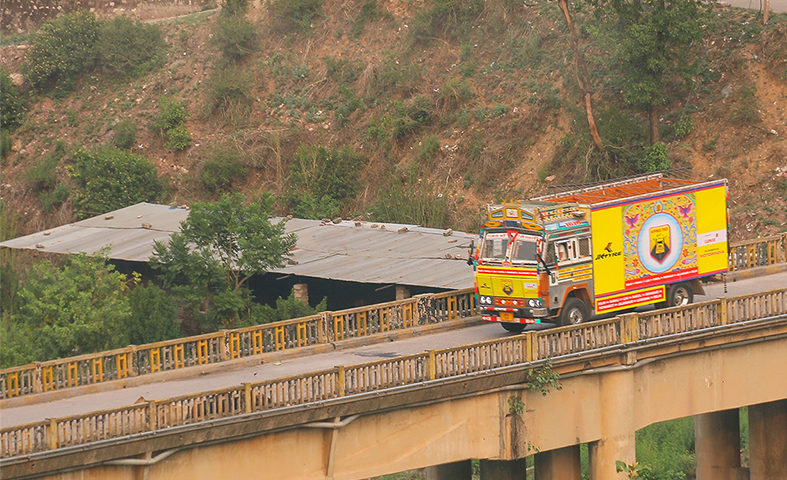 In part three of the four-part 'Happiness Truck' series, Rajesh Rajgor puts down the experience of conducting activities at Barmana, Mandi and Leh. He also documents the magnanimity of the hills and highway warriors that make the most of the toughest route from Manali to Jammu and Kashmir (J&K)
After a hat-trick of events at Baddi-Nalagarh and Darlaghat we were ready to take on the Barmana Transport Nagar, located on the banks of river Sutlej. This particular region, that borders Bilaspur and Mandi districts, acts as an intermediate transport centre for the trucking industry in this belt. As also elaborated in our Trucker Towns article in the July issue, Barmana supports a wide variety of sectors and industries that bring prosperity and livelihood in this hilly region.
As at the previous activities, our team erected the canopy and the Happiness Truck was parked right at the front of the Bilaspur district Truck Operators Transport Society (BDTS) building. Inside, a familiar setting welcomed us. Truck drivers started to gather around the truck and the canopy. A majority of the drivers were inside the large auditorium, participating in the 'boli'. Here we were joined by V. K. Singh, Zonal Manager (FM) – North from JK Tyres along with Vikramjeet Singh, Area Manager, Fleet Management, Punjab and Himachal.
After the formal set-up, which included sensitising the drivers about the tyre and lighting, I was told that Harvinder Singh, Chief Patron of BDTS, was available to meet. While Yogesh Kumar, Vikram and Sahil continued to engage the truckers, I along with the cameraman moved to meet Harvinder Singh in his office. A very welcoming personality, Singh was very happy with our initiative and emphasised that it would help the truckers of the area that cumulatively hold around 3,500 trucks. He also briefed us about the various medical check-up camps and driver training and upliftment programmes the BDTS conducts from time to time.
As the lunch hour drew closer, we were introduced to a veteran, Lekhram Choudhary, Ex-President, BDTS, who made a strong case in point for drivers' contribution in the development of the region. He equated the sacrifices of a driver, whom we can call a highway warrior or a highway pilot, to no less than a soldier securing his country on the border! "Untiring efforts from a driver lead to the development of the nation," he stated. The JK Tyre dealers in the area, Shashi Sharma and Jaipal Chaudhary, emphasised how their relentless work has helped JK Tyre gain a market share of 42% in Barmana.
I finished the meeting and came towards our truck. Drivers were gathered around our canopy; I sensed a heightened interest amongst a few drivers about their trucks' tyre life. They were clearly curious to know ways that can help them run their tyres for a longer duration. Many of them who had tried different brands were clearly unhappy and optimistically looking at JK Tyre. One of them told me, "Since the margins are often wafer-thin in the cut-throat competitive market we have to look at tyres as a resource that can minimise our costs. Already most of our community members have bought vehicles on easy financing and cannot switch to any other business even if they are merely surviving."
He made complete sense and as I gathered my thoughts, I realised it was 2 pm and time for us to wrap up the activities and head for lunch. We were treated to yet another local cuisine of 'makke di roti and 'sarson da saag' (corn bread with cooked mustard green leaves). It is good food for the winter as it keeps your body hot but I found it a bit too heavy as an afternoon meal. Nevertheless, the entire ambience and connecting with the two Sikh drivers at the 'dhaba' made me realise how food connects people and how a lot of these truckers have their preferred food joints, which also double up, sometimes, as repair posts for trucks and resting points for the drivers.
Life of truckers
The next morning it was time for the Mandi Transport Union. Contrary to the familiar setting so far, this was a very humble place both in terms of space and size of the truckers available. Without letting our energy or motivational levels go down we prepared for an interaction with the drivers. We started with an interaction with Mahesh Thakur, Vice President, Truck Operator Union, Mandi. The union has around 200 trucks and transports mostly onions, potatoes and local farm produce.
As a few drivers joined us, the discussion flowed around their life as truck drivers and how staying away from home has become a routine for most of them. Most of them rely on old local folk songs and hits from 1990s as a source of entertainment. However, travel without challenges is perhaps impossible. Most of them have encountered regional transport officers or traffic inspectors who have given them immense trouble. The drivers complained of several paper checks en route to J&K and how that leads to a loss of resources. However, despite the odds, these drivers take pride in what they are doing.
Mahesh Thakur showed us an old vintage Tata Model that has been a cherished heritage vehicle in the union. "We have had various movie production houses approach us to use this vehicle as part of their films," he beams. He then gave us a ride in the classic gem. The love these drivers have for their vehicles and the way they maintain them is unparalleled. These vehicles are after all their bread-winners. From changing tyres to managing the faults in engine, to a small failure to a big issue, these drivers are equipped to handle most of the things on their own.
As we moved ahead and stationed ourselves in Manali we were preparing ourselves for the two days of travel to reach Leh. The approximately 473 km road stretching from Manali to Leh passes through several desert plateaus which a wide range in altitudes. A number of high passes fall on this route, including Taklang-La, the world's second-highest motorable road, 17,469 feet (5,235 metres) above the sea level. I was also told that the journey will take around two days with a night camp at either Sarchu or Pang.
While we were waiting for our colleague Dhiyanesh Ravichandran to join us in Manali, we decided to check around the local culture in Manali. We managed to reach a hidden gem of sorts – the Pangan Gompa, a Buddhist monastery. Manali has several colourful monasteries that represent the rich culture and history of the Tibetan people settled in Kullu and Manali. This particular monastery was close to Patlikuhl, 30 km south from Manali. We got an out-of-the-world experience at this place. The single road leading to the monastery was too narrow for the truck and hence we took our escort vehicles. The Kullu Valley view that we got from the top was breathtaking. The Pangan Monastery houses close to 80 homes and a school, that nuns and monks run.
Rustic beauty
As my colleague was running late, we decided to leave a vehicle back in Manali and went ahead with one escort vehicle and our Happiness Truck. Within 20 km from our journey we were in awe of the beauty of the snow-capped mountain and coniferous trees. The video and photography team were so enthralled by the route that they didn't care about the cold or rough and curvy road while they kept shooting images and videos. It is not possible to visit Rohtang Pass and not enjoy to the hilt while travelling to Keylong.
As dusk neared, we had a brief halt near Pandoh Lake. This pit stop seemed to have worked wonders on our body and minds as we hit the road again. I gazed in awe at the coniferous trees swaying majestically in the breeze. As Vicky, our truck driver, and I threaded our way on serpentine roads cut into the rock faces of the mountains we felt a thrill pass through our spines. Soon we entered a 3 km long tunnel which is an engineering marvel in itself. The stretch is well-lit for most part but there was dust covering the entire tunnel. Here is where we could realise the importance of proper lighting.
Vicky felt that the Lumax LED lights improved the lighting quality as compared to traditional halogen lights. LED light consumes less power as compared to normal lights and have high-quality light projection. They are resistant to vibration and are also helpful in fuel-saving. Bharat Stage VI norms, to be implemented by 2020, would require vehicles to be more energy-efficient, which would lead to faster adoption of LEDs. A normal car without the paparazzi would have reached Keylong in five hours despite the fun at Rohtang Pass. It took us nine hours to reach Keylong!
Hills and highways
The magnanimity of the hills can be taken from the fact that we crossed at least five high-altitude passes from Keylong to Sarchu. Sarchu is a military base and a major halt point on this route. It has tented accommodations available and is a good spot to spend the night. We experienced acute mountain sickness at places. The road conditions kept changing from bad to good to bad again throughout this stretch. We reached Sarchu around 8 pm and decided to stay put there. It was as if we had arrived on Mars! The wheatish brown mountains and dry weather coupled with freezing cold temperature made our stay really difficult.
Add to this no telephone connectivity which meant that we were disconnected from communicating with our colleague, who was unaware about whether we had reached Leh or stayed at Sarchu. As we got ready for the local dinner made by a Ladakhi lady, we were thrilled to see our colleague and his vehicle reach Sarchu! We had good sleep that night. When we woke up though, shivering in the 4-degree temperature, we realised we would have to move fast to reach Leh. The onward journey to Leh was no different from the one we had experienced so far. On the way we distributed food packets, oil, sugar and tea that we had been carrying for the local villagers as well as for the daily wage workers laying the roads.
On reaching Leh we decided to visit the famous Magnetic Hills since the event was planned a day after. The Magnetic Hill is a spectacle in itself. Located at a distance of 30 km from Leh city on the Leh-Kargil highway is a small stretch of road that defies the phenomenon of gravity. The reason is that the Magnetic Hill pulls stationary vehicles upwards. It is a major tourist attraction in the valley and a perfect pit stop for tired riders moving on the highway. We had a superb shoot with our truck and couple of ATVs (all-terrain vehicles). We were joined by Sanjeev Sharma, GM, Fleet Management, JK Tyre and V.K. Singh along with their local dealer partner, Stanzin.
The next day, as scheduled, we reached the place for activity at Leh. This union had a vast number of Tata 408s and Bolero pick-ups. Addressing the gathering, Sharma emphasised on the correct proportion of air in the tyre both when the vehicle is loaded and while returning empty load. He also spoke about the benefits of correct air pressure on radial tyres with respect to fuel efficiency and overall turnaround times of the vehicle which increases in savings for the vehicle owners. He also gave the drivers an insight into the world of tubeless tyres and how it is the next important change as far as advancement in tyres is concerned. On insistence of K K, vice president of the truckers' union, Sharma promised to make tubeless tyres available for trials to whoever was interested.
Sadness and happiness
We were conducting our activities the same evening when India lost to New Zealand in the Men's World Cup Semi Final. On one side was a sinking feeling of losing an all-important match and on the other side we had a fun-filled engaging activity involving drivers in a game of musical chairs, dancing, passing the ring to one another, and a magic show. While we Indians were dejected at our loss in cricket, personally our team was elated at conquering J&K with our Happiness Truck. It was a great feeling of having achieved our purpose while spreading happiness and good information. The JK Tyre Happiness Truck, supported by Lumax as our lighting partner, moved further to Srinagar, Jammu and Ludhiana before heading back to Delhi. Incidentally it was also 20 years of 'Operation Vijay' of Kargil War when our brave soldiers had fought and conquered Tiger hill. We paid our homage to the martyred souls who sacrificed their lives for the security of our nation. While we witnessed the magnanimity of the hills, we also experienced the nobility and generosity of the highway warriors, which comprises of not only drivers but also road builders, transporters, citizens, and the entire transport fraternity.